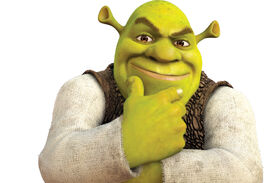 Shrek first appeared in the first issue of TWD. He is one the four main characters. He is an ogre from Swamptopia and has really MLG fighting skills. He is part of the Meme Force.
Personality-Shrek is a Yellowish/Green Ogre who is over weight and has terrible hygiene. Shrek can be very rude at times but he means best. Despite being a big fat Ogre, Shrek is actually very smart even being an official member of NASA.
Powers-Shrek can harness the power of the onion and is known as being one the most MLG people who ever lived.
Love Life: Shrek has dated a variety of people such as Caitlyn Jenner, Pc Principal, Johnny Test and even Carson. He eventually found love in John Cena in season 4 and they have been dating ever since.
Community content is available under
CC-BY-SA
unless otherwise noted.